A horrifying project
In 2002 I had the opportunity to be involved in the production of Stephen King's horror miniseries Rose Red, working as a photo retoucher.
In the story, Rose Red is the name of a Seattle mansion that has been the site of numerous tragedies and paranormal events. My role was to provide retouched "archival" imagery for a scene in which the main character, Dr. Joyce Reardon (played by Nancy Travis), gives a slide lecture to a group of psychics at the fictional Beaumont University (filmed at the University of Washington). Following the lecture, Dr. Reardon and the group head off to Rose Red, where murder and mayhem ensues.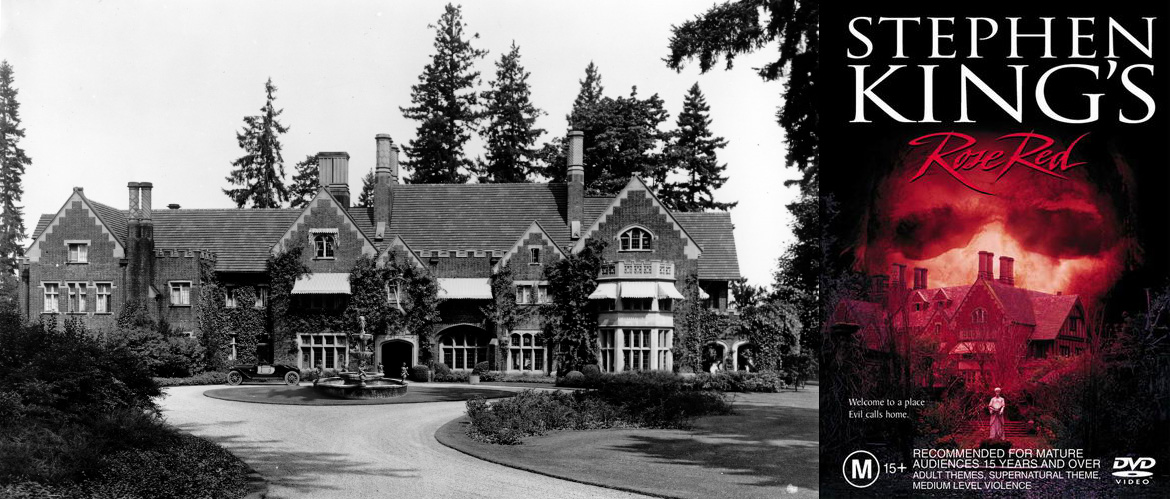 The retouching tasks were fun, but the amazing part was being able to tour the set. The production took place inside the old aircraft hangars at the former Sandpoint Naval Air Station, where the crew recreated the interior of the mansion, complete with a grand staircase. Stepping inside the set was fascinating; not only did I enter another (haunted) world, but the rooms and hallways were designed with built-in optical illusions, such as a hallway which was 9 feet tall at one end and 4 feet tall at the other, so that it appeared enormously long on camera. Sculptures and architectural details were carved out of foam, including the fountain and the cherubs pictured below.
Best of all, I got to rub shoulders with the production designer and art director, who were two of the most talented individuals I have ever encountered. Architects, artists, expert draftsmen, construction engineers, jack-of-all-trades-and-masters-of-them-all problem solvers — and seriously nice people.
Despite the chance to rub shoulders with Hollywood, I was denied my 15 minutes of fame — my name did not appear in the credits. So close!
SaveSave
SaveSave
SaveSave
SaveSave
SaveSave
SaveSave
SaveSave